Quantity Surveyor Melbourne
Contact: Erik Abbenhuys AAIQS, ICECA, AffAIB
Building Practitioners Board Registration No. QS-1009 Tax Practitioners Board Registration No. 39766002 Member AIQS College of Expert Witnesses
Phone: +613 9873-7144 Fax: +613 9873-7244 Mobile: 0412-356-313 Email: erik@abbcon.com.au
Claiming Depreciation and Building Deductions
Tax Depreciation Schedules for Older Properties
A common misconception is that there is little or no depreciation that can be claimed on older properties.
In fact depreciation on plant and equipment can be claimed regardless of the age of the property.
Tax Depreciation on Plant & Equipment
Division 40 and 42 of the Income Tax Act lists over 1,500 items of plant and equipment relative to income producing buildings that can be claimed.
These include items such as stoves, dishwashers, carpets, curtains, hot water units and the like.
Items of plant under Division 40 and 42 can be claimed regardless of when they were first installed.
Tax Depreciation Deductions on Capital Works Items- Applicable Dates
Building write-off on capital works generally relates to anything not classified as plant and equipment and can be claimed under Division 43 of the Tax act on all residential buildings built after 17th July 1985 and structural alterations after 26th February 1992.
Division 43 items include the building structure and cladding, kitchen cupboards, sinks, toilets, paving, fences and the like.
Building write-off is generally allowed at 2.5% per annum over 40 years. Therefore a building constructed in 1985 and purchased in 2015 still has 10 years of building write-off that can be claimed in a Tax Depreciation Schedule.
A building that was built say in the 1960's would have no building write-off allowance claimable on the original building, however more recent upgrades that have occurred since 1985 would be claimable. This would include such items as kitchen and bathroom renovations, extensions, roof guttering or window replacements as well as painting and the like.
Quantity Surveyors Specialist Skill
An experienced Quantity Surveyor with particular experience in housing over many years is able to ascertain the extent of such works during the course of a building inspection.
Tax Depreciation Benefits for older Properties
In summary, older buildings can still be depreciated and it is certainly worthwhile to engage a Quantity Surveyor to prepare a Tax Depreciation Schedule for such properties.
The Deductions will not be as great as those of new properties, but none the less they are still significant and it is always worthwhile to obtain a Tax Depreciation Schedule.
There are still $1,000's of dollars in deductions that can be claimed each year.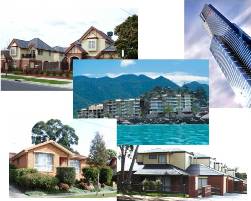 Introduction To Investment Property Tax Depreciation Schedules
"Tax Depreciation Schedule was never mentioned to me by my accountant when I purchased my rental property" is what I hear from many property investors I meet. So they ask, "What is a Tax Depreciation Schedule?"
What is a Tax Depreciation Schedule?
To put it simply, it is an assessment of the decline in value of every component in your rental property. This annualised decline in value can be used to offset you taxable income as if it were a cost against your property. In fact it recognises that all parts of your property deteriorates and requires replacement over time.
Who can prepare a Tax Depreciation Schedule?
The Depreciation Schedule is prepared by a suitably qualified Quantity Surveyor i.e. one that is registered with the Tax Practitioners Board, and is sometimes referred to by accountants as a "Quantity Surveyor Report" when advising their client property investors to obtain a Depreciation Schedule in respect of their rental property.
Tax Depreciation Schedule Investment Property Inspection
The first part of the process of obtaining a Depreciation Schedule involves the quantity surveyor visiting your investment property and undertaking a detailed survey accompanied by measurements and photographs, in order to establish the construction cost of the building, as well as placing a value on all the depreciable components from floor coverings, through to appliances, heating, cooling light fittings, window coverings and many other items.
Tax Depreciation Schedule Content
The Tax Depreciation Schedule itself is a structured document that essentially has two aspects relating to your Investment property's allowable tax deductions.
The first aspect 'Building write-off allowance' which essentially is the "Shell", fabric or structure of the building and includes property surrounds such as hard pavements, fencing, services and the like, and known as "Division 43" capital allowances. These costs are claimable as a straight line deduction of 2.5% over 40 years and commence from the date of completion of the works.
The second aspect is loosely named "plant and equipment" and is defined in "Division 40" of the Tax Rules, and details numerous items including appliances, hot water systems etc. These are depreciated at varying percentages based on their deemed effective life which generally varies in the range of 5 to 20 years.
All of this is calculated by the quantity surveyor, and all items are described in a report that covers all items and summarised to show the total deduction available each year for your investment rental property. These deduction amounts are then included by your accountant as a deduction against your taxable income each year.
Benefit of a Tax Depreciation Schedule
The end result is a significant reduction in your taxable income and can fall in the range of $8,000 to $22,000 per year dependant on the property.
Tax Depreciation Schedules-Prime Cost v Diminishing Value?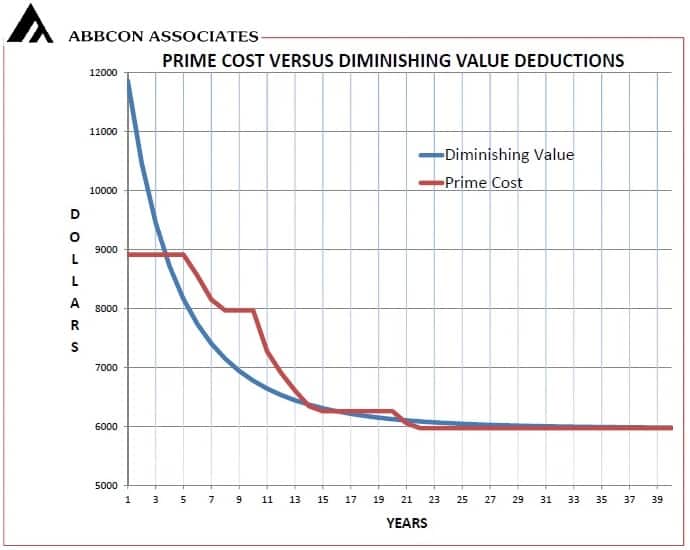 Prime Cost Versus Diminishing Value Methods for Tax Depreciation Schedules
What does it mean and what is the difference?
To put it simply, the Prime Cost method gives you equal deductions each year for the effective life of the article.
Whereas the Diminishing Value method gives higher deductions in the earlier years.
The majority of investors choose the Diminishing Value method. The significantly higher deductions in the first five years or so, means less tax to pay.
The initial years following the purchase of your investment rental property are usually when you are most cash poor.
Having recently acquired your investment property you have to deal with all the initial associated costs surrounding the purchase, such as stamp duty etc.  You may also be undertaking some initial capital improvements such as window furnishings, landscaping, painting and the like.
The above graph compares Prime Cost and Diminishing Value methods used in producing ATO compliant Tax Depreciation Schedules.
The graph shows the deductions claimable for each, in thousands over a period of 40 years.
The above graph represents typical Depreciation deduction values for a residential unit or townhouse.
How Do I Choose a Particular Method?
The circumstances where you may consider using the Prime Cost instead of the Diminishing Value method are broadly outlined as follows:
You have resided in the property for say 7 years or more, before deciding to rent it out.
You have been renting your investment property for 10 years or more and have not been claiming Tax Depreciation deductions.
It may suite your personal financial circumstances to spread the allowable deductions evenly over the period that the property is being leased.
In the above circumstances, it may well be beneficial to choose the Prime Cost Method for your Tax Depreciation Schedules.
Your accountant or tax adviser can advise you on the method that best suits your personal circumstances.